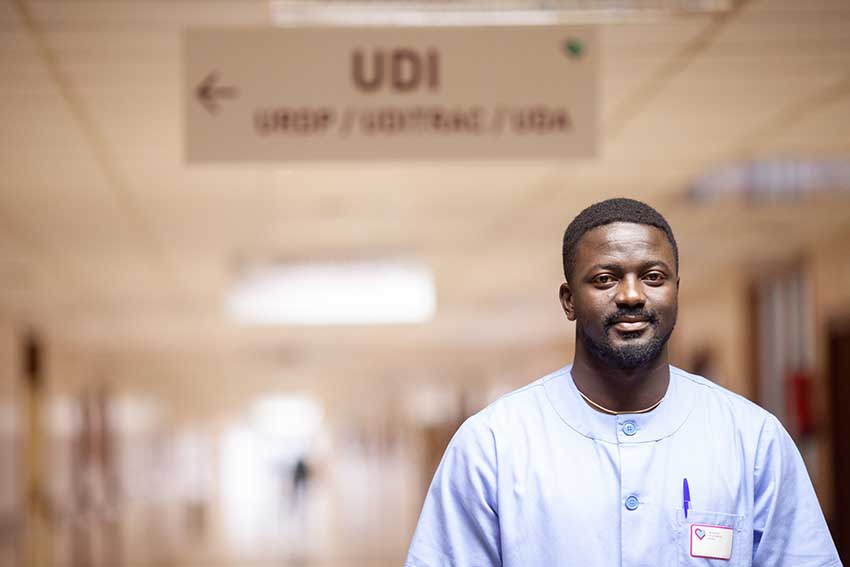 Ato Kwamena Sagoe, at the access to the Intellectual Disability Unit in Aita Menni Hospital.
07 Dec

Our officer in charge, Ato Kwamena Sagoe, rotates among several Sisters Hospitallers´ centers

Half an hour after this interview, he will offer a presentation to a large group of fellow nurses from the Aita Menni Hospital in Arrasate, in which he will explain what it is like to be a nurse in the Mental Health Unit of the San Benito Menni Center in Monrovia, Liberia, one of the most disadvantaged countries in the world. His talk is a kind of farewell to the Hospital, where he has spent just over a month rotating through several units. In the last few days, he has also visited Sisters Hospitallers´ headquarters in Ciempozuelos and San Miguel Clinic in Madrid, which specializes in psychosocial rehabilitation.

This is the second talk our Unit coordinator gives since he came here. The first was at a conference about mental health in Africa, which was attended by the director of International Cooperation of the Provincial Council of Gipuzkoa, a public institution that provided financial aid for the Mental Health Unit. Ato Kwamena Sagoe, a 30-year-old Ghanaian, has a way with words, truly. "I'm good at public speaking, socializing, and that's why I had plans to become a teacher," he recalls. His dream was to be a football player —he is an avid Liverpool fan— "but studying to be a teacher or a nurse was one of the few ways to find a job as soon as possible.

"I didn´t become a teacher even if I had the passion to", he says. "I was offered the opportunity to a teaching training, but the training was intended to be in French, so I decided to study nursing. I was recommended to specialize, but being a man I didn't have much chance of becoming a gynecology nurse, so I started studying at the School of Psychiatric Nursing in Ankaful," a place near the city of Cape Coast where there is a general hospital and a psychiatric hospital.

"There I realized that there were many people who were suffering and whom I could help, and I began to understand the complexity of the human mind and how it works," he says. His own mind played more than a trick on him during his training, which lasted three years plus a year's internship. He recalls, humorous: "A professor explained delirium to us, and gave us the example that a person can be convinced that he is someone he is not, such as God or the president of the Government. That sounded a bit far-fetched to me, until one day, during my internship, I came across a patient who said exactly that, that he was God. The first thing I thought was that my professor and the patient had some kind of agreement or joint plan to tell that story to the students".

He also realized that being a psychiatric nurse had an added difficulty: "Mentally healthy patients can tell you where they hurt, what kind of pain they're in or how often they feel it, but it's very hard to know what's wrong with someone who refuses to eat and won't communicate with you, and even harder to get them to follow treatment."
Internship in Dompoase
After finishing his studies, Ato began an internship at the Benito Menni Hospital run by the Sisters Hospitallers in Dompoase, where there is a rehabilitation center for people with mental illness. "I was there for six months, and then I left", he tells us. "In December 2018, I received a call in which I was offered to go to Monrovia to work in the Mental Health Unit of the San Benito Menni Health Center", created a year earlier in the Liberian capital and supported from the Aita Menni Hospital of Mondragon through a twinning with the Liberian center. "I like challenges and I was eager to travel, so, after doing an interview with the Superior of the Province of England, on which the centers of Ghana and Liberia depend, on February 28, 2019 I started working in Monrovia".
In a place with very limited resources, the work of a nurse is extensive: "I take care of everything that has to do with caring for the patients, from preparing and administering medication to organizing activities, feeding them or making beds", he explains. "Since January 2022, I have also been in charge of the Unit, and that means organizing staff shifts, reporting on care activity, liaising with Sisters Hospitallers in England and Mondragon or representing our mental health center at the monthly meetings of the Government of Liberia's Mental Health Technical Coordinating Committee or at meetings with other institutions".
Difficulties are not just limited to material resources. For decades, there has been only one psychiatrist in Liberia (the second one just was inaugurated as a psychiatrist few months ago) and there is only one other center for the care of mental illness, the E. S. Grant Hospital, which currently collaborates with the San Benito Menni Center Unit by referring patients. "It´s very likely that the greatest difficulty is to fight against the vision of mental illness that exists in a large part of Africa", explains Ato. "Spirits, witchcraft or quackery are very present in African cultures, and often families who have a member with mental illness or other diseases such as epilepsy resort to practices that not only do not help these people, but worsen their situation. They take them to see the medicine man or a representative of the religion they profess, and end up tied to a tree in a forest or subjected to rituals."
Working with families
His work and that of the staff of the Unit he manages, therefore, also involves working very closely with the families: "When the patients return to their environment, their relatives are their doctors and nurses, and therefore, if we want the rehabilitation process to be successful and to be maintained over time, we have to make them understand what mental illness is and that it can be treated. They will be able to live with it if they know how to care for their family member."
For this reason, at the María Josefa Recio Mental Health Unit (named after one of the founders of Sisters Hospitallers), meetings with families are of paramount importance "because they form part of the rehabilitation process, and only with their collaboration will we be able to restore not only the health of the patients, but also their dignity. But we don´t only want to raise awareness among families, but also among the rest of society, and with this aim we collaborate in radio shows, give talks in schools and hold public events to convey the importance of detecting situations of risk of mental illness and treating them appropriately".
The Mental Health Unit at the San Benito Menni Health Center in Monrovia simultaneously attends to a group of between 15 and 20 women with mental illness and intellectual disabilities, and since it was set up almost 200 women have passed through its facilities. A large number of them return to the center every month for a follow-up visit, and others are visited by social workers in their own homes. "Follow-up", explains its officer in charge, "is a fundamental part of our work to avoid relapses, relapses that sometimes force us to search the streets for former patients who have left their homes."
Despite its brief existence, the Unit has already become a reference in mental health care in the country. We collaborate with the College of Physicians and Surgeons, and we host a residency program aimed at training students and postgraduate residents in psychiatry," explains Ato. The only psychiatrist in the country so far, Dr Benjamin Harris, works with us, and a new graduate specialist has completed his residency at our facility. In addition, we host trainees from the School of Nursing at the Mother Patern School of Health Sciences. We participate in the Liberian government's Mental Health Coordinating Technical Committee, and we are supported by the World Health Organization and other institutions working in this field in Liberia."
His rotation through various units of the Aita Menni Hospital and Sisters Hospitallers´  centers in Ciempozuelos and Madrid has brought new knowledge and experiences to this young nurse. Ato emphasizes "the affection that one can breath here and with which the patients are treated, as if they were family", and he especially values what he has experienced in the Intellectual Disability Unit at Aita Menni Hospital: "They are very special patients. When you understand how they feel and how they perceive the world around them, and you find yourself forced into their shoes, your ability to care for them improves a lot". She also takes away for Liberia "the importance of teamwork with a multidisciplinary approach, and also the idea that each patient is unique and the treatment must follow an individualized plan; it is something we also do in our Unit, but not in such a detailed way".
And what could we learn here from the care work in African centers? "Well, it would probably be good for you to have our ability to improvise, to provide solutions to problems with few resources".
A new way of living Hospitality
This experience has given him "a new way of seeing and living the values of Hospitality, and the feeling of being part of something big, with an impressive history developed by people who, from Father Menni until now, have dedicated their lives to makin others´ lives better".
As a good football fan, he has also made time to attend a couple of Real and Athletic matches and to see the Real Madrid stadium, and has also been able to visit some places of the Basque geography.
By the time these lines are read, Ato Kwamena Sagoe ("Kwamena" is a name added because he is a male born on Saturday) will be already in Monrovia. He takes with him the affection received in the Basque Country and Madrid. "I thank all the people who have accompanied and helped me while I have been here, and especially Sister Lourdes Perez (Superior of the Province of England) and the managing director of Aita Menni, Mikel Tellaeche, for having given me the opportunity to work in the center of Monrovia and to be part of this great Hospitaller family, Sor Paz from Ciempozuelos, all the sisters of the Mondragón Community, Dr. Eglee Castillo, Nerea Gutiérrez, José Luis Girón, Amaia Jauregui and all the nurses. And a big thank you to my mother for the support she´s provided for me so far".