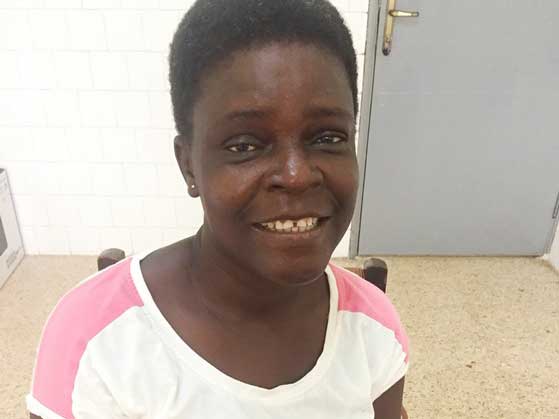 09 Mar

"I´d tell other women to come to the Step Down Unit, so they can heal."

L.G. is a 45-year-old woman with paranoid schizophrenia. She was one of our first admitted patients. In her relapses, she usually believes that someone wants to chase and kill her, so she runs away from the family home to live in the streets.

She used to sleep in the treetops to prevent men from abusing her and people from throwing stones at her despite the fact that trees are infested with red ants, whose sting is very painful. She remembers people calling her "crazy woman" and shouting at her to stay away from them.

After her stay at the Mental Health Centre with us, she has been stable for 9 months, and she is grateful for having the life she has always wanted, especially for being able to take care of her son.

How long did you spend in the Step Down Unit?

Three months. I have been discharged for 9 months.

How has your life changed after being treated here?

Before I used to run away from the house, and go from place to place.

What did you enjoy the most while you were at the centre?

I enjoyed the activities, especially doing exercise and baking. I'd love to say thank you to the social workers, the nurses, the doctor and the cook.

What do you do now for a living?

Now I take care of the house, washing, cleaning… and of my son.

What would you like to do in the near future?

I would like to get married and get my home.

What would you say to all the women in Liberia who are going through a difficult time due to mental illness?

I would tell them to come to the Step1 Down Unit, so they can heal. Don't mind the rest of the people and move forward.

What can we do to make things better?

Talk more to people about mental illness.