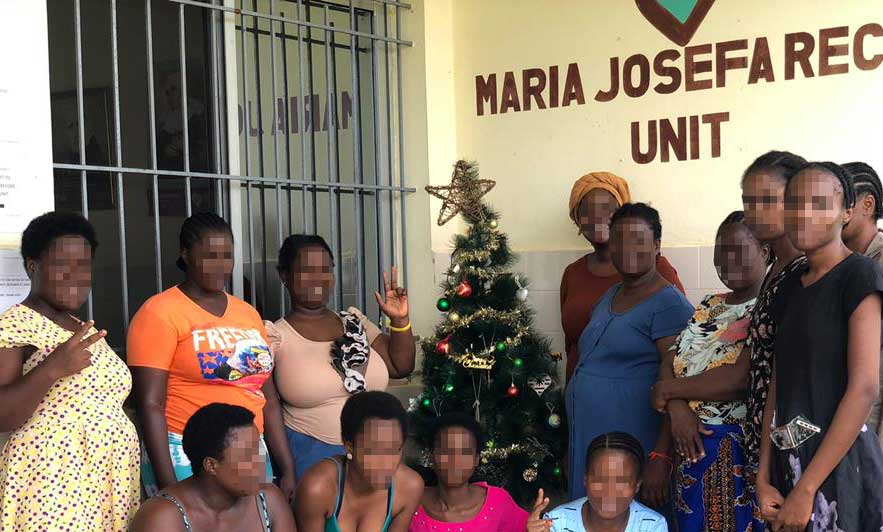 A group of patients send their best wishes for the New Year 2021
02 Jan

Balance: half of the patients, at home and stable

2020 was a tricky year for the Maria Josefa Recio Unit, which serves women with mental illness and intellectual disability at the St. Benedict Menni Health Center in Monrovia, Liberia. The pandemic caused by Covid-19 made our activity difficult, forcing us —as in many other places in the World— to extreme prevention and protection measures to avoid the virus from accessing the center's facilities and endangering the health of our patients, our staff and the sisters Hospitallers who live here. We can say that, up to now and thank God, our efforts have borne fruit, although our healthcare activity was greatly reduced, forcing us to suspend the admission of new patients between March and October.

The closure of borders and restrictions on internal movements have also put us in serious difficulty in obtaining the medicines we provide to our patients. In view of the hindrance in receiving them from Spain, we have been forced to try to acquire them on the national market, which is scarce and poorly supplied.

Nevertheless, we continue to serve and fight to improve the conditions of women with mental illness in Liberia. In December we received a new patient, bringing the total number of women served since the opening of the Unit in November 2017 to 107.

Of these, almost half —46%— were discharged to their homes, come to the center regularly for follow-up visits, are stable and develop their lives independently, through small jobs, something that fills us with joy.

With joy as well we wish you a very happy New Year 2020, with the hopes of seeing this pandemic ends soon.