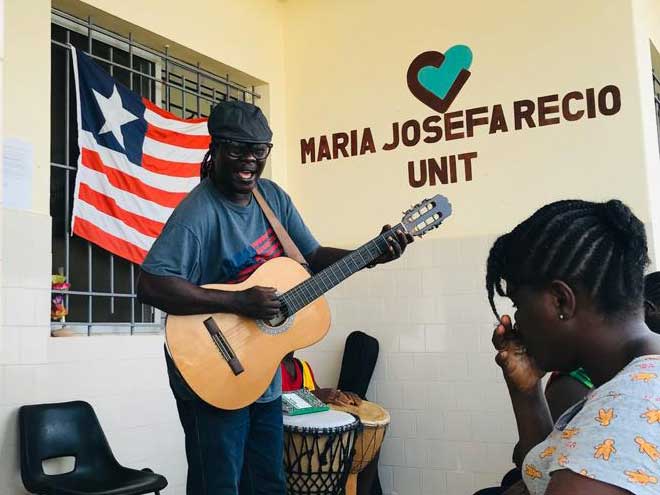 Emanda plays and sings in a music therapy session at the Unit.
05 May

Meet Emanda, our music therapist

Emmanuel Smith, "Emanda", is a Liberian musician in charge of the music therapy workshops which our patients attend two days a week at the Mental Health Unit of Saint Benedict Menni Health Center.

Question.– Tell us about yourself and what you do here at Benedict Menni Mental Health Centre.
Answer.– My name is Emmanuel Smith, popularly known as Emanda. I have a daughter (Emmanuella Smith) who is 12 years old now and my little niece (Faith) who I am taking care of. I am a recording artist by profession. I have been working here in this facility as a music therapist for about 2 years now. I use musical interventions to improve patients´ health in cognitive, social, emotional and receptive experiences like improvisation, composition, recreation and discussion of music. I play the guitar; teach them how to beat drums, singing and dancing as a way of contributing to their rehabilitation.

Q.– What was your impression when we first offer you this position? What did you know about mental health?
A.– It was a mixed feeling at the beginning but the excitement was more because I had the ability to do the job. Well, I think mental illness is when a person suffers mental instability which I know can be caused by harmful drugs, a family background and so many other causes.

Q.– What do you think your activity contribute to the rehabilitation of patients?
A.– Music is an art which helps to relax their minds and take away some emotional stress as individuals. Through music, dancing and singing I contribute to patients´ recovery by promoting joy, avoiding anxiety and helping to stimulate their minds. You could see happiness in them during our sessions on Tuesdays and Thursdays.
"We need to see people with mental illness as part of our community"
Q.– Tell us about your personal story.
A.– Before the war started, I was on vacation at my aunt's place in Virginia, an outskirt of Monrovia. Suddenly we saw people moving in and out and heard loud shooting from Monrovia. After a few weeks, the war got closer to Virginia and it intensified day by day. My aunty was raped by the rebels; this got me scared so I decided to escape far away to a town close to the boarder that separates Liberia and Sierra Leone. There I was nearly killed because the rebels considered me as a Mandingo —a tribe in Liberia who interfered into the war. I came out of this situation and decided to cross the border but I was unable to because the rebels allowed only women to cross to go and buy their goods and return. It was difficult for me at this moment; I stayed there for some weeks and met a group of guys who seemed to have another route to escape. We made a plan, risked our lives and crossed to Sierra Leone, where we resided and registered as a refugee.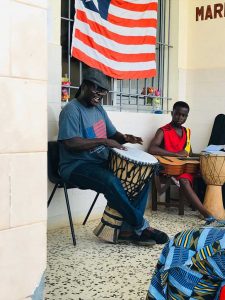 Q.– What would you say to people who still do not understand mental illness?
A.– I will counsel them about mental illness; that it is a medical condition which I think can affect everyone. We need to see them as part of our community. I have also learnt here that drugs are not the only cause of mental illness.
Q.– How you recommend people to approach people with mental illness?
A.– First of all you need to be calm and tolerant because the people are stable. These women need our support and love. I will encourage persons who suffer from mental illness to visit mental homes for treatment. I have seen several of them recover from crisis and function normally so far as they comply with treatment.
Q.– Tell us about your professional career as a singer/composer in Liberia.
A.– Well, it all started after the way when there was nothing going on in the country, I decided to play bands in hotels, entertainment centers and in the streets. In one of these hotels I met a Spanish guy, who was working with the European Union, who liked what I was doing and wanted me to compose music on teenage pregnancy. I told him about my intention of composing my own song. After I was done with my composition, he invited me to his residence along with some other friends to perform all the songs I had written. They all appreciated my songs and decided to send me to the recording studio where I did my first album entitled "Jump Liberia" which consisted of 12 songs.
Q.– Anything else you would like to say?
A.– Yes. I would like to give thanks and appreciation to Sisters Hospitallers for establishing this facility for my people in Liberia who are mentally ill. More so I am grateful to Mikel (the program lead), Alfie, the sisters, Marta, Cecilia and the rest of the crew in Step Down Unit because they have been working hard with these mentally ill women.