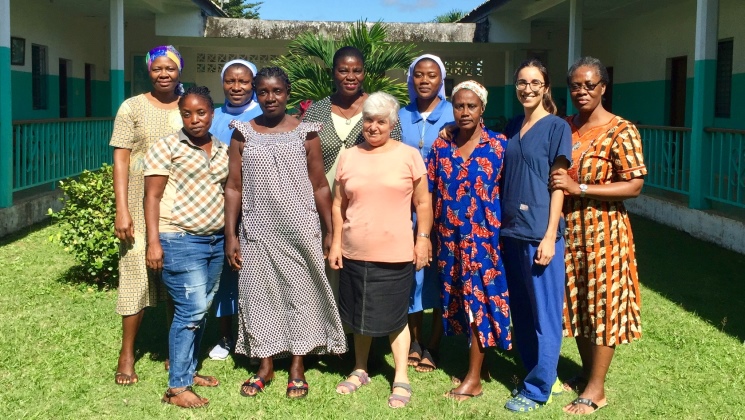 Marta (second from right), with Sisters at the Community House.
01 Mar

Meet Marta, our first psychiatrist

Marta Menéndez is a Spanish psychiatrist who spent one year working at St Benedict Menni Mental Health Center. One year after going back to Spain, she returned to visit the centre. She also participated in a talk about mental health at the community college.

Question.– Can you tell us what you have done since working in the Step-Down unit?

Answer.– Leaving the country and the Step-Down Unit was more difficult than I imagined. You feel you leave a part of you behind, but returning to my family and friends, whom I missed so much, helped me a lot. Strange as it may sound, going through a process of adaptation to the first world and the rush of the west is not so easy.

I looked for work quite soon and now I am a psychiatrist in a half-stay unit. Similar to the concept of the Step-Down Unit, we work with the patient holistically and globally, not only addressing mental pathology, but also associated social and family problems. However, I continue collaborating with the project as much as I can and I remain in contact with the sisters and the co-workers.

Q.– Now that time has passed, how do you value what that experience, has brought you in the long term both at a personal and professional level?

A.– Being able to work for a year with the Sisters Hospitallers in Liberia was the best experience of my life, and I am sure that it will continue to be so over the years. It was the best decision that I could have taken just after finishing the residence because it has enriched me not only as a person but also as a professional, and therefore I strongly recommend it to both doctors and interns who at some point may have thought about such a move.
No experience can be compared with helping people who really need it``
No experience can be compared with helping people who really need it, especially with the few available resources and adversities that you find along the way. I have learned the great significance of human treatment in our profession. I think that the most important thing about mental health work is, to treat people affected by this illness as they are – human beings who suffer, something that in African countries is sometimes forgotten because of the stigma that surrounds this pathology.
Q.– Any moment you have experienced in your time at St Benedict Menni has accompanied you all this time?
A.– I find it difficult to choose a single moment that doesn't remain with me day after day and which I don't put into practice in my work as a psychiatrist in the western world. Above all, I retain what African culture has taught me: the resilience, courage and strength of people who face adversities but always have a smile and only words of kindness and gratitude to each other.
Of course, I also remember the times when a patient was discharged and her subsequent return to the unit for follow-up visits. These moments were joyful for everyone, even for the patients who were still admitted. Seeing how a patient regains the dignified life she deserves is the best gift for a doctor.
Q.– How was going back to Liberia? Did you find it as you expected?
A.– It was just as I expected. From the moment I set foot in the country, it was as if I had never left. All the memories, emotions and feelings soon returned to me. Perhaps what most helped my quick adaptation and that feeling was because everything was still working exactly the same; I never doubted that it was so, and therefore I found everything as I expected. The unit under the supervision of the sisters and the wonderful work of the co-workers has allowed the centre to continue to operate above its expectations.
Q.– What steps do you think should be taken to improve the Unit?
A.– The sisters and co-workers are doing exemplary work and there is nothing I can say to improve it. Any improvement will depend only on the country and the government. Many mental health awareness campaigns must be carried out, improving infrastructure, providing more health personnel and, above all, abolishing stigma by educating the population. But this is something that we are still working to improve in western countries.
Q.– Do you think we are taking the appropriate steps to change the situation in which many people with mental health problems live? And the stigma that is attached to this condition in certain countries?
A.– I want to be positive, I think the world is evolving in many ways and in all of them for good. Progress and evolution take time but I certainly believe that we are on the right track, at least around mental health. Projects such as the one being carried out by the Sisters Hospitallers in Liberia and in many other countries are indicators of this progress. Much remains to be done not only in the most disadvantaged countries but also in the developed countries.
More awareness campaigns must be carried out. Stigma arises from ignorance and fear of the unknown. People are not bad by nature –just lacking knowledge. If we could provide more insight into mental health I am sure that it will soon stop being a worldwide problem.
Q.– Have you met a patient of yours? If so, how was the reunion?
A.– I have met many of them in fact. Most because they came to follow-up consultations and, as I said earlier, there is nothing more rewarding than seeing how your patients continue to be stable and living the life they deserve. The reunions were warm and emotional. They did not expect my presence, and as soon as we saw each other the hugs and the words of thanks and affection arose as if time had not passed. Really, for me it was the most gratifying part of my return. I felt immensely grateful to see that they remembered me with such affection, because I carry them every day in my heart.
Africa hooks you with something unique that you never forget and always carry with you. I plan to return at least once a year to keep in touch with the project and help as much as I can.
Q.– Can you tell us your plans for the future? Maybe going back to Africa?
A.– At the moment I intend to continue working in Spain. In our profession you never stop training and I still have a lot to learn. Of course, among my plans is to return to Africa, as this continent has become my second home, it is part of me and I will always have a special affection for it.