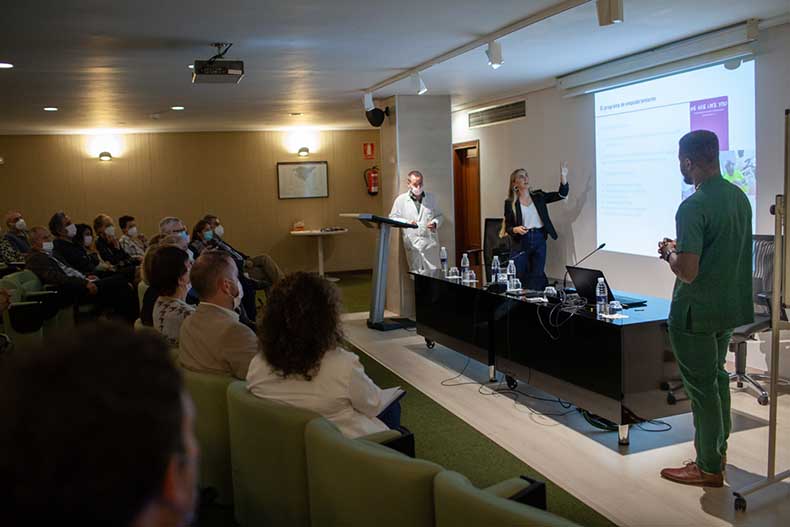 09 Nov

Our Unit, main subject in a conference on mental health in Africa

Our Mental Health Unit set in the Benedict Menni Health Center in Monrovia to care for women has completed 5 years of existence, during which it has cared for a total of 180 patients. The healthcare program is included in the mental health programs of the Ministry of Health of Liberia under the name of "Benedict Menni Step Down Unit" and is recognized by the World Health Organization (WHO).

The implementation of the unit was made possible thanks to We Are Like You, which is a collaborative project between the Aita Menni Hospital in Arrasate / Mondragon (Gipuzkoa) and the Benedict Menni Health Center in Monrovia (where the unit is located), both belonging to the order of the Sisters Hospitallers.

WALY aims to improve the socio-sanitary conditions of the health center's patients and to care for patients with mental illness and/or drug abuse and patients with mental retardation. Specifically, WALY seeks to raise the necessary funds to develop health facilities in Liberia to provide adequate treatment for women with mental illness or intellectual disabilities.

On the occasion of the commemoration of this anniversary, the Aita Menni Hospital recently organized at its headquarters in Arrasate the conference "Mental Health in Africa", which brought together people who are part of the project and organizations focused on volunteering and international cooperation.

The conference was attended by: Fernando San Martín, general director of International Cooperation of the Provincial Council of Gipuzkoa; Maitane Muñoz, councilor for Social Services and Youth of the City Council of Arrasate-Mondragón; Sabrina Haboba, coordinator of the Benito Menni Foundation; Dr. Manuel Martín Carrasco, psychiatrist and medical director of Aita Menni; Mikel Tellaeche, managing director of Aita Menni and head of Programs at the Benedict Menni Health Center of Monrovia; Ato Kwamena Sagoe, nurse specialized in psychiatry, coordinator of the Mental Health Unit of the Saint Benedict Health Center; Izaro Uribarren, sociologist of the Aita Menni Hospital; and José Luis Girón, care director of Aita Menni. The event was conducted by Egoitz Zabala, head of Solidarity at Aita Menni.

The event was opened by José Luis Girón, who placed special emphasis on the work carried out by Saint Benedict Menni, founder of the Congregation of Sisters Hospitallers to which Aita Menni belongs. "We must, as our founder taught us, look at other realities that, although distant, challenge us. The spirit of Sisters Hospitallers pushes us to go to countries where women with mental illness are especially vulnerable, such as in Africa," he stressed.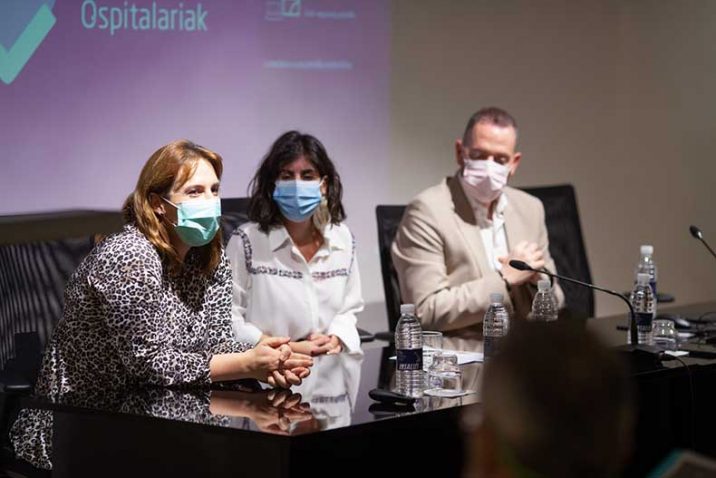 Benito Menni Foundation
Sabrina Haboba, coordinator of the Benito Menni Foundation, created by Sisters Hospitallers in 2004, explained that they work specifically in the area of mental health, an area, she said, "very neglected, not only in Spain and European countries, but also in the countries where we work, particularly in Africa and Latin America".
"When we have the possibility of carrying out projects that we know transform the reality of people, especially women, it is a source of pride to do so and a great incentive to continue working for the rights of women, so that they can have mental health care," she said, while asserting that the Foundation aims to "destigmatize people suffering from mental health disorders in order to give them another vision".
Haboba continued her presentation by focusing on the importance of the objectives of the UN's 2030 agenda, because "it is aligned with our work and with the Sustainable Development Goals, which talk about health and wellbeing. It is the first time that mental health appears as a goal of the international agenda and it is very important."
In this context, he highlighted the work he has done with Aita Menni "to implement the project in Liberia with the Benedict Center, in Monrovia" and thanked "the support of institutions such as the Provincial Council of Gipuzkoa".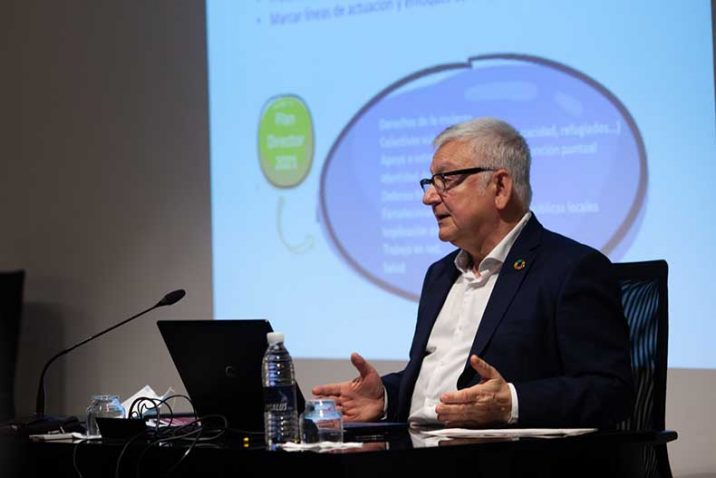 Provincial Council of Gipuzkoa and its commitment to international cooperation
Fernando San Martín, general director of International Cooperation of the Provincial Council of Gipuzkoa, stressed the "importance of having a mechanism to manage and visualize development aid". The Department he directs, as he explained, "aims to eliminate vulnerability and achieve equality between women and men in citizenship, and the protection of all people".
"Among all our work points, there is a specific one for Africa, for NGOs working in this continent. It must be said that whoever visits Africa does not stay the same. I visited Rwanda in 1997, shortly after the end of the genocide. I have not been the same since then. Africa transforms", said San Martín, who applauded the work that Aita Menni and Sisters Hospitallers carry out in Africa.
Among other issues, San Martin highlighted the importance of generational change for the coming years. "I believe that all institutions, political parties, the Church, volunteers and companies have to be aware of this, because many people will continue to be needed to carry out this work," he added.

Mental health in Africa
The next speaker was the medical director of Aita Menni, Dr. Manuel Martín Carrasco, who gave some data on mental health in Africa and the rest of the world. Thus, he showed that "in global terms, in the world, there is progress in physical health, but there is a setback in mental health". "This setback, unfortunately, has little prospect of being fixed. There has to be an increase in investment and policies towards mental health. Obviously, countries with lower incomes suffer the most, as is happening in Africa," he said.
"The WHO recommends an annual expenditure of two dollars per person on mental health, but the average expenditure in Africa is less than half a dollar. In sub-Saharan Africa, the prevalence of mental illness is not among the highest in the world, but it is growing," he said.
In this environment, Dr. Martín Carrasco said that "a very compromised healthcare situation is foreseen in Africa with services at a minimum and a lack of access to essential psychotropic drugs. Access to mental health professionals is also very limited". "There are cheap psychotropic drugs that could be made available to all those who need them. Primary Care should also be developed in a comprehensive way that also includes psychiatric care, with the aim of breaking this vicious circle of poverty and mental illness," he said.
On the other hand, the expert regretted that "mental illness is still associated with supernatural causes, which leads to the use of remedies with questionable efficacy and to the stigmatization of the sick. It is estimated that 70% of patients consult a healer before reaching a doctor, let alone a psychiatrist. In addition, madness is hidden and produces shame, and leads to cases of abandonment."
"Nor has Covid helped, which caused a breakdown in care as the population believed that by going to a health center they would become infected. But the mental health problems in Liberia go back much further, to an armed conflict up to 1996 that also affected the mental health of the citizens and the combatants," explained Dr. Martín Carrasco.

The Mental Health Unit in Liberia and the We Are Like You project
The managing director of Aita Menni, Mikel Tellaeche, explained the beginnings and development of the Mental Health Unit that the Aita Menni Hospital in Arrasate set up at the Benedict Menni Health Center in Monrovia.
"There was a facility belonging to the Sisters Hospitallers that was empty and had been set aside for the rehabilitation of children with mobility problems. We saw that it was a good place to start a Mental Health Unit. But in April 2013 Ebola hit us and we almost had to rethink the project, but finally on November 16, 2017 we started and were able to open the Mental Health Unit at the Benedict Menni Health Center in Monrovia."
Satisfied with the work done and with an eye on the short-term future for the project to continue, Tellaeche explained that a total of 180 women have been served.
"Thanks to Sisters Hospitallers, volunteers, collaborating and participating companies, Catholic Relief Services (CRS), the Ministry of Health of Liberia, the WHO, the Basque Government and the Provincial Council of Gipuzkoa, the project is a reality," said the director of Aita Menni, who had a special memory for Juan Carlos Irizar, composer and pianist from Oñati, director of the Aita Menni Patients' Choir.
"Juan Carlos Irizar, who left us last year, was a fundamental piece in the development of the We Are Like You project. Thanks to his solidarity music we toured many towns and corners of the Basque Country and raised funds for the cause with the street markets and tours we organized. Thanks to the fact that people went to see him, we were generating that sensitivity towards Africa that otherwise we would not have achieved".
In this context, he pointed out that many institutions, companies and organizations have collaborated and have made it possible for this project to become a reality", but insisted that "it is still not sustainable on its own and the maximum support that can be given is needed".
Regarding the care provided at the Mental Health Unit, the director of Aita Menni described that the work "is not specifically about transferring resources, but about transferring knowledge. We try to adjust to their reality and on many occasions we try to give that approach of what they need and how to reach the resources."
"In the 8 years that we have been running the We Are Like You project, we have managed to raise around 740,000 euros, which have gone to investments," he explained. For every euro we have received in subsidies, we have been able to generate three".

Care at the Unit, told first hand
Finally, the coordinator of the Mental Health Unit of the Saint Benedict Health Center of Monrovia, Ato Kwamena Sagoe, was present at the conference, who pointed out that "the main health programs in Liberia are dedicated to HIV, tuberculosis, malaria and maternal and child health". "There is hardly any budget directed to this area of mental health," he reported.
Sagoe spoke at the conference together with Izaro Uribarren, a sociologist at the Aita Menni Hospital, who was in charge of translating and contextualizing the words of the expert, who spoke in English.
"There is little awareness of mental health," said Sagoe. "There are a lot of myths and a lot of stigma. There are a lot of irrational beliefs related to mental health that cause people suffering from a mental health disorder to be totally stigmatized. The socioeconomic impact on the population is quite noticeable. It is worth noting that 10% of the population has some mental health condition and 5% require some type of treatment."
As he explained, the Mental Health Unit is part of the Technical Committee of the Liberian Ministry of Health, with which the center collaborates by implementing "many programs such as training of medical, nursing or social work personnel." "The center also collaborates with other health actors such as Médecins Sans Frontières, CRS, Red Cross, etc. There is also a great psychiatry, occupational therapy and music therapy team," he listed, "and we develop regular workshops such as cooking, sewing or hairdressing."
"We not only treat women's mental illness, but we also provide specific training in mental health, both for women and families. We also help to insert these people into the labor market, and to promote their social insertion through different workshops such as basic economics or advanced economics. In the end, we give them the tools so that they can achieve their own life goals," he described.
Along these lines, he stressed the importance of relationships between patients and family members. "We hold meetings where experiences are shared," he said, and showed the example of three young women "who have been treated at the Unit and who have moved forward."
"One of them, had hallucinations and voices and was not able to discern reality from what she was hearing. When she entered the center, she was given a psychological evaluation. She was in the center for six months and has recovered. The other protagonist stopped eating and sleeping, and forgot herself. She was isolated for a whole month. She also had several suicide attempts and spent three months in the unit until she recovered, and now she mentors and helps these women," he explained.
According to Sagoe, "one mother was treated at the center after living on the street for three years, where she was physically, verbally and sexually abused and assaulted, and contracted HIV. As a result of living in that context, she adopted many negative attitudes. At the center, we reunited him with his family and children".
Finally, and in conclusion, the expert stressed "the importance of creating new bonds" and asked the attendees what they saw in each picture, to which he himself replied that "these women represent all women, with all their rights and needs, which is the raison d'être of the Unit that has just turned 5 years old". "We hope that, with the help of institutions, governments, volunteers, companies and Aita Menni will fulfill another 5 and many more years," he concluded.
The day ended with a round table in which experts from the Provincial Council of Gipuzkoa, Sisters Hospitallers, Alboan and Caritas exchanged opinions.