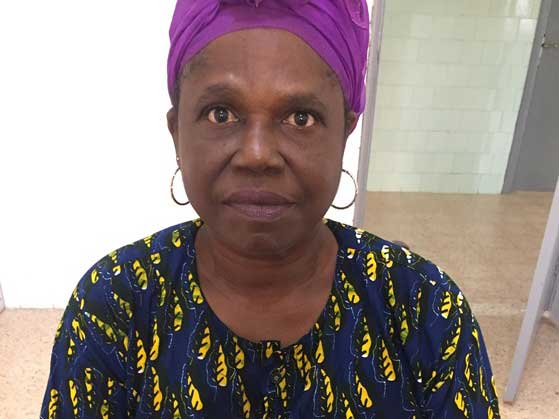 15 Jan

"Life has made me more confident of myself since I have been treated here"

B.Y. is a 50-year-old woman. She was one of our first admitted patients. On her last monthly follow up, she arrived on time, well groomed and dressed, with her continuous smile and her hair tied. She is one of the many Liberians who still suffer the consequences of the war and the Ebola outbreak, and she is also affected by Schizophrenia.

However, these are not the only circumstances keeping her from being stabilised: loneliness and the lack of attention from her family are also contributing to her unhappiness and her relapses. She spent three months with us, and as soon as we realised her family was not supporting her, we started to work with her family and her community. Now, after 9 months, she is stable, her family is more aware of her condition and needs, and she is teaching in a primary school in her community.

How long did you spend in the Step Down Unit?

I came in November 2017, I left in February, that makes three months. I have been discharged for 9 months.

How has your life changed after being treated here?

Life has made me more confident of myself since I have been treated here; I trust the Catholic sisters. I pray this relationship last, even though I am Episcopalian. The treatment I have been receiving agrees with me, and I don't have any more side effects like before.

What did you enjoy the most while you were at the St Benedict's Menni?

I enjoyed reading novels, the food and all the activities in the Unit, especially the music therapy and the walks around the community. My best and sincere thanks and appreciation to all the staff.

What do you do now for a living?

I am a teacher in a community school. In the future, I would like to go to my big sister in America.

What would you say to all the women in Liberia who are going through a difficult time due to mental illness?

Get close to the creator, the maker, this is not only a woman thing. I would tell everyone to pray and trust in God, but also "take your medicine for yourself, occupy your time, feel useful." For those who are living stigma, they should take courage, life is just a stage and it will pass away.

What can we do to make things better?

You can place a fan in every room, or just put it in my bed (she laughed). I like cold places.