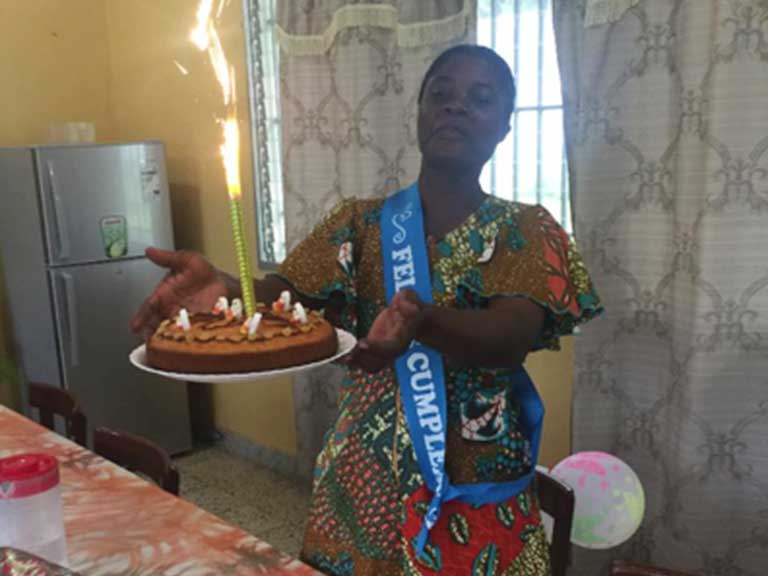 Sister Mary with her birthday cake.
02 Aug

The Saint Benedict Menni Mental Health Center welcomes 3 new patients

The Saint Benedict Menni Mental Health Center in Monrovia welcomed 3 new patients in July as part of the We Are Like You program, which has taken care of 82 women with mental illness since its opening in November, 2017.


From the 18 women who were living in our facility in June, one has been discharged after assessing her stable behaviour and there has been a readmission of a woman who stayed at the Mental Health Center previously. 43 former patients were seen for the follow-up and 10 were visited at their homes.

In July we introduced the "trial parole" system. This is another form of treatment modality where clients are assigned to go back home after going through several forms of psychotherapy and are observed to have developed a good and stable mental state. This has helped clients to adapt and adjust to their environment after being away for a period of time due to the onset of their mental illness. We assign them a week break for this program. Family and guardians have clung to this program with their maximum support.

This month saw Sr. Inca make a trip for the purpose of having time away from her duties to relax and reunite with the other facilities in London and Spain. She arrived safely and expected to be back in the early stages of August. We wish her memorable holidays.

Anniversary of the birth of our clients and staff is well celebrated in our facility. During this period we were blessed with two celebrants, a patient and Sr. Mary. Cakes, drinks, meals and songs were enjoyed amongst us. The celebrants received gifts and good wishes.

Three patients who have been identified with various abnormalities of the eyes were sent for screening. They went through the various processes and were rendered the necessary intervention for free.

On July 26th we celebrated Independence Day, the 172nd anniversary of the foundation of this country. During the Independence Day celebrations, clients were engaged in many activities as the whole country was in a state of ecstasy. Apart from our normal routines of the day, some forms of divertional therapies were introduced. Paper game, musical chair competition, storytelling, music and dancing competition amongst others were undertaken. Clients who emerged winners were awarded with prizes. They had special meals and sang the national anthem of Liberia, All Hail, Liberia Hail!

Aside, this month also continued with the in-service training of staff coordinated by Ato Kwamena (nurse specialist in psychiatry). We discussed various forms of assessment of patients´ mental state. Staff were presented with scripts of the presentation.

Unfortunately, not all news were good. The month began with an unfortunate demise of one of our former patients as a result of a road accident. She was admitted at the emergency unit of JFK Hospital for few days but couldn't survive. We sent our deepest condolences to the family. May her soul rest in perfect peace.