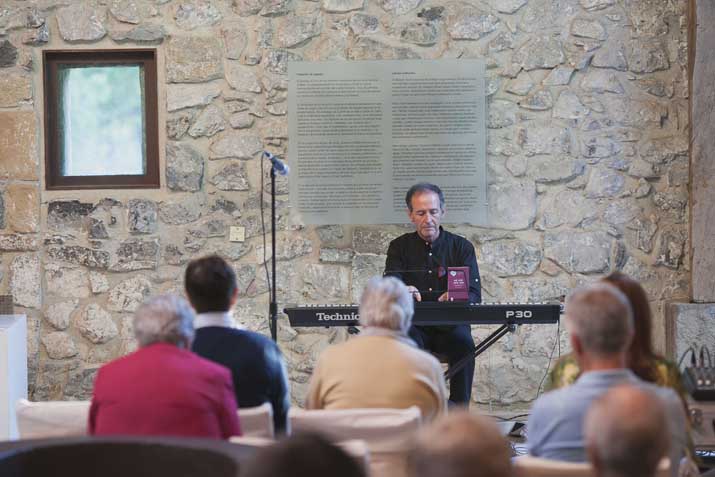 Juan Carlos Irizar, performing in one of his concerts for We Are Like You.
22 Nov

Tribute to Juan Carlos Irizar in his home town, Oñate

Composer and pianist Juan Carlos Irizar, who died in April at the age of 69, was honored this past Sunday in his hometown, Oñate.

Musikegunak concert series, dedicated to the classical genre but open to other more contemporary styles, had one of the most special events of its 43rd edition with a day dedicated to our beloved Juan Carlos, tireless benefactor of our project We Are Like You.

On the stage of Santa Ana Theater, Aratzazu Saiz Trio paid a well-deserved tribute to Irizar, a figure highly appreciated for his human and artistic quality.

Irizar passed away in April 2021, leaving an extensive musical legacy that includes more than thirty records and compositions for films, ensembles and festivals, among them the anthem of the San Sebastian International Film Festival or the march of Marijaia of the Aste Nagusia of Bilbao.

The group, led by pianist Arantzazu Saiz from Oñati, and also comprising Iosu Izagirre (bass) and Hasier Oleaga (drums), was accompanied by other musicians who knew the honoree well: Xabier Zeberio (violin), Karmelo Bengoetxea (accordion), Xabier Ugarte (guitar), Iker Orozco (oboe) and Jesús Mari Aranburu (bass).

The event was also attended by Mikel Tellaeche, managing director of the Aita Menni Hospital and head of projects at the Saint Benedict Menni Center in Monrovia, centers with which Irizar collaborated as director of the patient choir at the former and benefactor of the latter through the organization of solidarity concerts to raise funds for We Are Like You project.