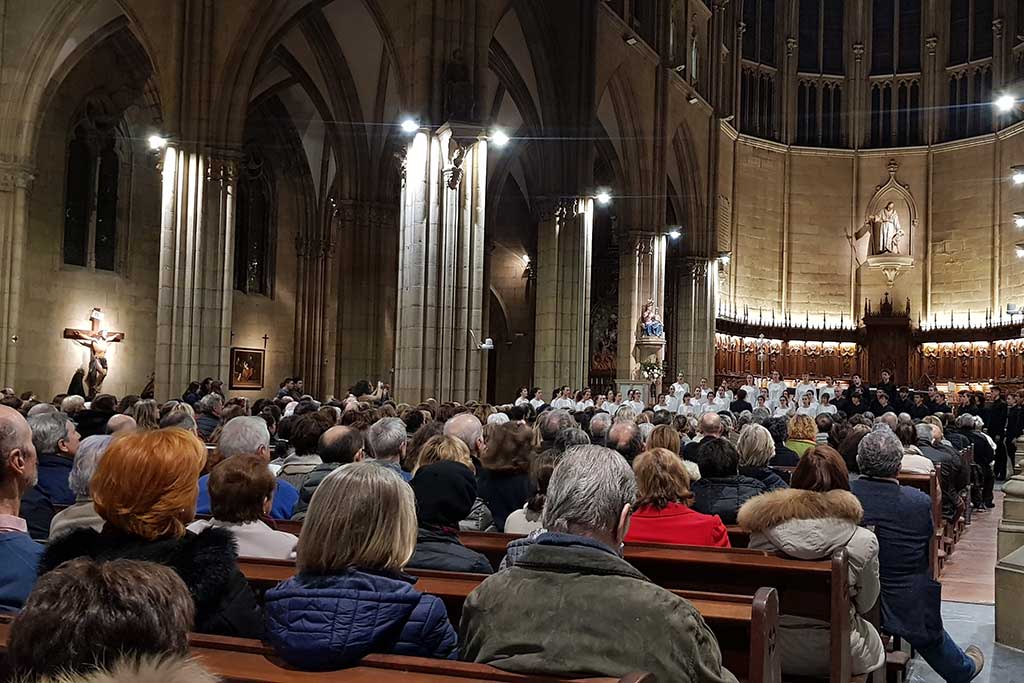 25 Nov

Youth and children chorus of Orfeon Donostiarra give a grand finale to the charity concerts

Youth and children chorus of the Orfeon Donostiarra were in charge of giving a grand finale, last 21st, to the row of charity concerts arranged this Autumn by Sisters Hospitallers to raise funds for We Are Like You, the project that cares for women with mental illness and intellectual disability in Monrovia, Liberia.

The last event gathered at the Good Shepherd´s Cathedral in San Sebastian a dedicated audience who enjoyed for 1,30 hours the voices of 130 singers divided into three chorus: Little Singers of the Orfeon, Orfeoi Txiki ("Small Orfeon") and Young Orfeon. Pieces by Guerrero, Mendelssohn, Randall Stroope, Hogan, Sarasola, Piazzola… and some traditional songs from the Basque Country, Zambia or Italy, in which some choreographies were performed, got warm applauses and cheers. Amongst the audience, most of the Board of Directors from Aita Menni Hospital, headed by Superior Sr Monserrat Esparza and Mikel Tellaeche, CEO at the Hospital and main promoter of We Are Like You as Health Project Manager at the Saint Benedict Health Center in Monrovia.

Head of Social Projects and Pastoral Activities Egoitz Zabala expressed gratitude to the people who joined us at the cathedral "to bring this warm feeling from this temple to Africa". He explicitly gave thanks to Bishop Jose Ignacio Munilla, for authorizing the use of the temple, to all the singers and conductors —Klara Mendizabal, Esteban Urzelai y Letizia Vergara—, as well as piano player Amaia Zipitria.

Flowers for the artists and african women dolls handmade by patients of Hospital Aita Menni. And nice words of appreciation for all the people who fight for improving life quality of women with mental disease in Africa, with special recognition for psychiatrist Marta Menendez and nurse Cecilia Alvarez, who worked at Sisters Hospitallers´ center in Monrovia for more than one year and were in the audience.

Egoitz Zabala didn´t forget acknowledgements for El Diario Vasco newspaper for spreading the word on the concerts. To Laboral Kutxa bank, ATECE Gipuzkoa, Mediolanum bank, Unicef Donostia and Donosti Fashion Kids as well, amongst many other organizations that made this concert possible, which total amount raised, 6.600 €, is in its way to Liberia to relieve the needs of Maria Josefa Recio mental health Unit, at the Saint Benedict Menni Health Center.

There was time to talk where this African country is and remember the ebola outbreak in 2014, and to explain how Sisters Hospitallers were taking care of patients of the Pipeline area in its health center, and how two years ago started to care for women with mental disease. "If there is a lot to to here, figure out in Liberia —said Zabala—. In that place, mental illness equals oblivion and exclusion. Task is double: welcoming and awareness. Ninety women have gone through our facility. We Are Like You reminds us that we are equal in dignity".