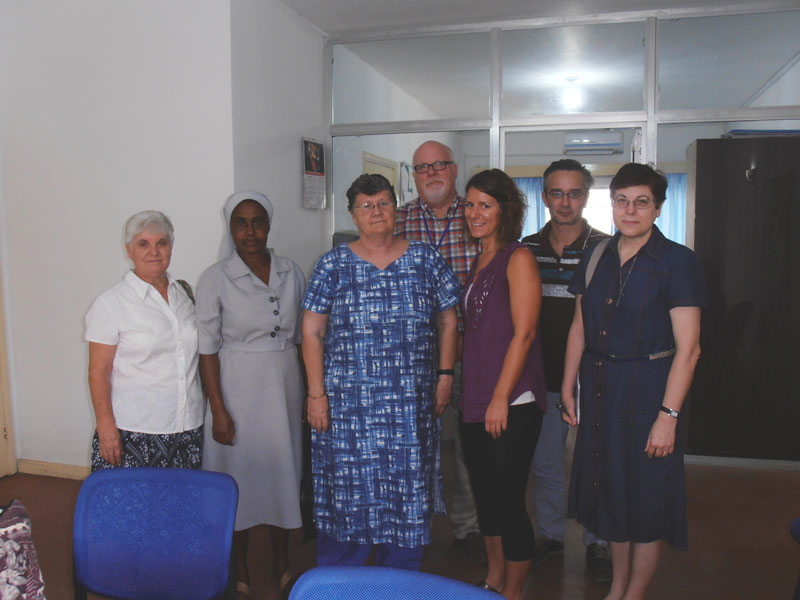 08 Mar

Catholic Relief Services give its support to "We Are Like You" again funding the works of the Step-Down Unit

International aid organization Catholic Relief Services (CRS) will provide funds to enable the conversion of part of the facilities of the Saint Benedict Menni Health Center managed by Sisters Hospitallers in Monrovia, Liberia.

This important economic collaboration sums up to the previous one provided by CRS last year for the construction of an area of ​​assessment of symptoms and isolation of possible cases of Ebola virus, an initiative that allowed for the reopening of the Health Center, temporarily closed due to the Ebola virus outbreak in Liberia.

The agreement with CRS has been possible within the visit that the Superior of the Province of England of Sisters Hospitallers, Sister Begoña Perez, and the director of Aita Menni Hospital, Mikel Tellaeche, have recently paid to Liberia, where they visited Sisters Hospitallers´ and St. John of God´s health centers and hospitals. "The contribution of the Province of England and and funds raised in Spain –they said–, as well as the drive of the Community of Pipeline and the support of Sister Barbara Brilliant, dean of Mother Pattern College of Health Sciencies and representative of the Catholic National Health Council, have enabled that CRS allocate funds for this project again."

Once they knew the project, representatives of the catholic organization valued practical aspects such as the selection of patients, the medication to be dispensed and the dispensing procedures to achieve greater effectiveness of treatments, the collaboration with the Ministry of Health and Social Welfare –through the Technical Coordination Committee for Mental Health– and with the Grant Mental Health Hospital, the promoters´ knowledge of the health situation of the country and the difficulties involved in managing human resources, rehabilitation programs, training programs with various institutions and medical schools and finally, transparency and the existence of a descriptive website.

CRS help will be a major boost to WE ARE LIKE YOU project, which aims to improve social-sanitary situation of the patients of the Health Center and provide specialized care to patients with mental illness and / or substance abuse and to patients with intellectual disabilities.

Accessibility to specific drugs was one of the subjects addressed in the meetings at the Pipeline Health Center to discuss aspects of the WE ARE LIKE YOU project, and for that we have considered two alternatives: sending then from Spain and / or acquisition in Liberia. In both cases permits from the respective Ministries are required, and now we are deciding which of the two options is more suitable.

In Pipeline, the Sisters work in the request for proposals to refurbish two pavilions, and this will be followed by the adaptation of the facilities. The milestone for beginning the activity of the mental health program and receptiont of the first patients has been placed in June.