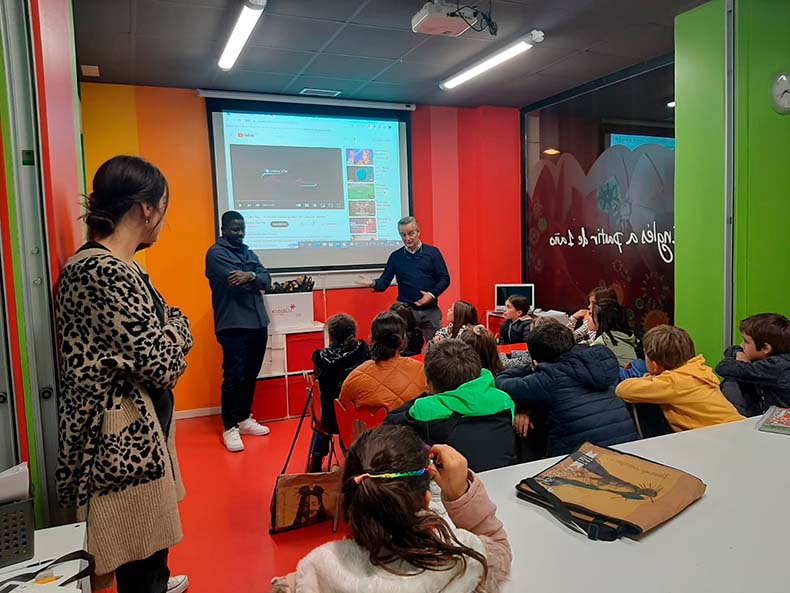 02 Dec

Kids & Us Arrasate donates backpacks for our Mental Health Unit

Kids & Us is a network of English academies specialized in classes for babies, children and teenagers, one of whose centers is located in Arrasate / Mondragón, where the Aita Menni Hospital is also located. Months ago, the local headquarters of Kids & Us received decorative elements made by patients of the Hospital and, in gratitude and in order to support the Hospital in its solidarity work in the We Are Like You project, donated on December 1st, backpacks whose final destination will be the Mental Health Unit of our center in Monrovia.

The meeting in which the delivery was made was attended by the managing director of Aita Menni, Mikel Tellaeche, who wanted to thank first hand the gesture of support from the Kids and Us Arrasate center. Also present were the healthcare director, José Luis Girón, and the officer in charge of the Liberian center, Ato Kwamena Sagoe, who told the children of the academy about the destination of the backpacks and the importance of this donation.

The event was also attended by Lucía Escolar, representing the Rehabilitation Service of the Hospital, where, for solidarity purposes, our patients daily make African dolls in their Paper Workshop, the sale of which serves to raise funds for the project.

It has been an endearing encounter in which solidarity and generosity have converged. This new experience allows us to strengthen social ties, providing greater integration and visibility in society to the most disadvantaged people.

All our thanks to Oscar Baile and his team at Kids & Us for having welcomed us with so much love and for having collaborated in our project We Are Like You.