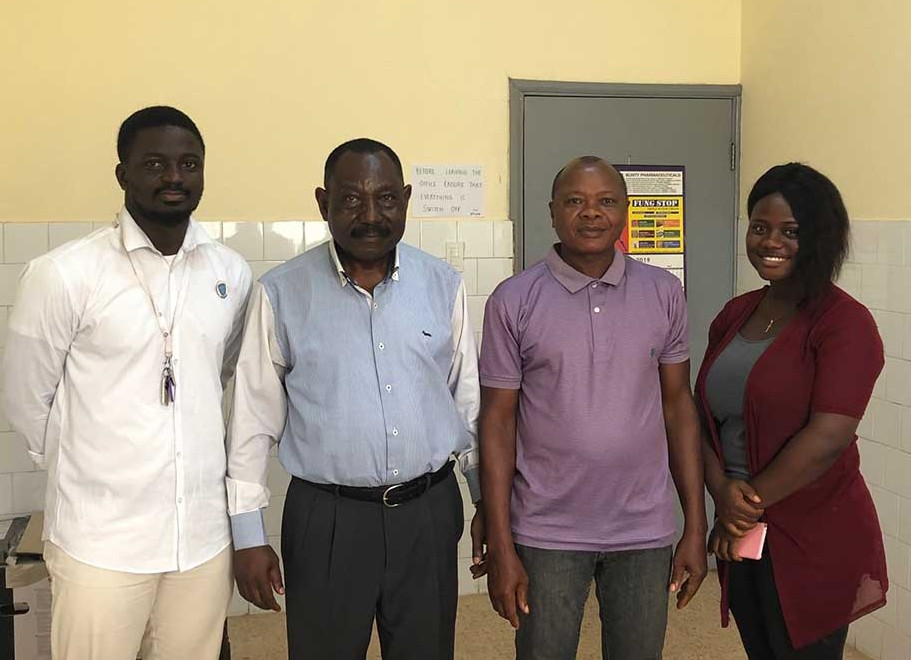 Nurse Ato Kwamena, Dr. Benjamin Harris, Timothy Dalieh, Unit coordinator, and Samantha Korkoyah, social worker.
09 May

Changes in the care team lead: prestigious Dr. Benjamin Harris joins WALY

Since last January, a 100%-african takes care of the patients at the Saint Benedict Menni Mental Health Center as psychatrist Marta Menendez and nurse Cecilia Alvarez went back to Spain after a year working at the Sisters Hospitallers´ facility in Monrovia.

The leader of the care team is now prestigious psychiatrist Dr. Benjamin Harris, the only practitioner currently in active in Liberia. Dr. Harris is an accomplished clinician, researcher, and educator with vast experience in post-conflict mental health. His primary areas of expertise are psychoactive substance use prevention, forensic psychiatry, HIV/AIDS related mental health, trauma and stress, and general health/mental health policy and program planning, development, implementation and supervision. He is an active mentor to medical students and interns, and has conducted numerous studies in Liberia and Africa. Dr. Harris was the lead World Health Organization (WHO) consultant to the development of Liberia's National Mental Health Policy, adopted by Parliament in 2009. He is a current member and former Chairman of the Ministry of Health and Social Welfare's Mental Health Task Force in Liberia. He has been a senior advisor, consultant and close collaborator to United Nation agencies, the WHO, and the United States Agency for International Development on projects throughout Africa and Europe. He was previously Director of the Catherine Mills Rehabilitation Hospital at JFK Medical Center in Monrovia. He is the former Vice President of the West African College of Physicians (WACP) and Chairman of the Liberia Chapter of the WACP.

The Saint Benedict Menni Mental Health Center has added Ghanan nurse Ato Kwamena to the team. He is specialized in psychiatric patients, and studied at the Ankaful Psychiatric Nurses Training College, in Cape Coast, Ghana, and worked at several general and psychiatric hospitals in his home country.

Other members of the staff, as Unit coordinator Tim Dalieh and social worker Samantha Korkoyah keep working on our team.